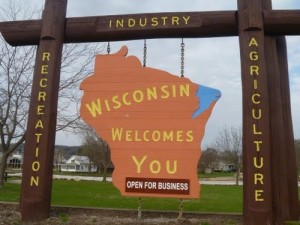 The Wisconsin housing statistics are in for April of 2014. Here is an excerpt from what the Wisconsin Realtors® Association (WRA) had to say:
Wisconsin existing home sales fell in April even as median prices continued to rise according to the most recent analysis of the state housing market released by the Wisconsin REALTORS® Association (WRA). Home sales declined 11.6 percent in April compared to the same month last year due to a combination of higher home mortgage rates, higher prices and harsh winter temperatures. Median prices rose over that same period, increasing 1.4 percent to $139,900.
"As we enter the second quarter of the year, we have been expecting some improvement in home sales, but it's important to remember that April sales are still impacted by the February weather given the 6 to 8 week lag between the time an offer is accepted and a closing takes place," said Steve Lane, chairman of the WRA board of directors. He also noted that there were heavy snows in the northern part of the state as late as mid-April 2014. Every region of the state experienced a decline in April sales. The Central region fared the best, falling just 3.8 percent over the April 2013 to April 2014 period, followed by the Northeast region which dropped 8.5 percent over the period. The South central region fell 9.6 percent and the Southeast region saw a decline of 10.1 percent. Finally, the North region dropped 17.4 percent and the West fell 25.5 percent. Interestingly, home sales fell more substantially in the metropolitan counties which averaged a 13 percent reduction in sales in April compared to rural counties which declined 7 percent between April 2013 and April 2014. "This may be due in part to much tighter inventories in the urban counties compared to rural counties," Lane said. Rural counties had just over 14 months of available inventory in April compared to just 6.9 months for metropolitan counties.
Below are the number of Home Sales and Median House Prices for the state of Wisconsin, Rock County, and Dane County. These stats include Janesville and Madison. Feel free to contact me if you have any questions pertaining to these figures. As you probably have heard, overall home sales & prices have been increasing over the past few years. This month however showed a decrease of home sales statewide, but an increase in home prices.
Thinking of purchasing a home before prices or rates rise any further?! I'd be happy to show you any homes currently listed for sale. Feel free to visit Home Listings in Rock County to search for current Rock County properties or visit Home Listings in Dane County for homes in Dane County Wisconsin.
Now might be the right time to sell your Wisconsin home. Feel free to take a look at our cutting edge Rock Realty Marketing Plan! If you would like some insight into how much your home is currently worth, I would be happy to provide you with a free comparative market analysis. This is a report that gives a close estimate to what your home might sell for in your current local Wisconsin real estate market. Click below:
What's My Wisconsin Home Worth?
Has your home value fallen below what you currently owe? Have you experienced a hardship like divorce or job loss? A short sale may be right for your situation. Visit our page on Wisconsin Short Sales for more information.
Housing Statistics for the State of Wisconsin:
March 2014
Home Sales: 5,369
Median Home Price: $139,400
March 2013
Home Sales: 6,003
Median Home Price: $138,000
Housing Statistics for Dane County, WI:
March 2014
Home Sales: 590
Median Home Price: $210,000
March 2013
Home Sales: 701
Median Home Price: $209,900
Housing Statistics for Rock County, WI:
March 2014
Home Sales: 170
Median Home Price: $115,000
March 2013
Home Sales: 175
Median Home Price: $105,000
View my report from last month. Wisconsin March 2014 Housing Statistics